Set the network mode to coincide with a local carrier's network.

Automatic Mode
Automatically selects the GSM or 3G compatible carriers.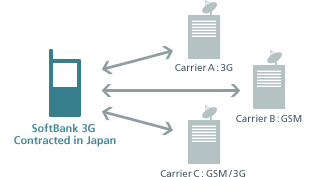 GSM Mode
Only selects GSM compatible carriers.
3G cannot be used.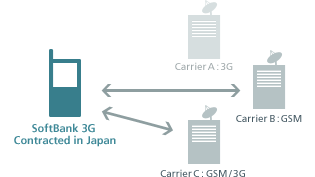 3G Mode
Only selects 3G compatible carriers.
GSM cannot be used.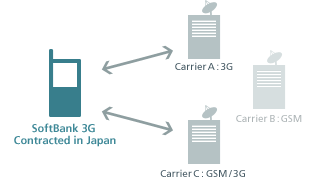 If you're using Global Roaming (3G) compatible models, GSM network cannot be used.
Setting the network mode to either GSM mode or 3G instead of Automatic mode will allow for more stability.
The default setting at the time of purchase varies by model.

If there are multiple carriers in the region, SoftBank 3G will automatically select an appropriate carrier. You can also select a specific carrier manually.
If your handset cannot automatically connect to a carrier, manual selection lets you search for a stable connection.
Rates while overseas differ depending on the local carrier.
Automatic
Automatically selects a carrier.
The automatically selected carrier may not provide Mail, Web, or other services you would like to use.
Manual
Manually select the carrier you wish to use.
Services provided and charges vary depending on the carrier.
---