Softbank handsets can send/receive SMS messages worldwide, just like in Japan. Pictographs are also supported.

SoftBank 3G handsets purchased and activated in Japan.
SoftBank 3G handsets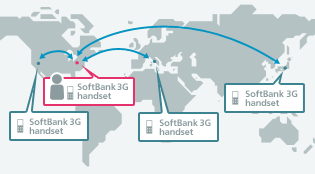 Sending
¥100 / message
Maximum 140 bytes
Receiving / Delivery Confirmation *1
Free

Sending/receiving fee outside Japan are not included in free communication, fixed-price plans or discount services for Mail and Web.
SMS service to/from a PC or e-mail of non-SoftBank handset is not possible.
Some telecommunications carriers do not support SMS.
Displayable characters/number of characters vary depending on handset.
Some handsets allow sending/receiving SMS messages larger than 140 bytes. SMS messages exceeding 140 bytes will be divided into 140-byte segments and sent/received separately, with applicable fees for each segment. Note that segmented SMS messages cannot be sent to handsets that use Sky Mail.
Messages will not be delivered to recipients who enable call barring. When recipient is out of service area or has turned handset off, SMS Center will continue trying to deliver for 30 days. After 30 days, undeliverable SMS messages will be deleted.
SoftBank may send SMS messages (welcome messages) when you are outside Japan. In such cases, there is no receiving fee.
---